In Memory
Christopher Trommater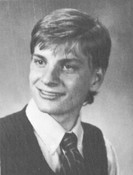 Date Deceased: Feb-21-2014
Age at Death: 43
Classmate City: Lansing
Classmate State: MI

Survived By: His twin brother, Eric Trommater and fiancé, Cheryl Markham

Christopher was a successful writer and author. He was a Michigan State University graduate and loved his Spartans. He was a very popular contributor to the Cheeseburger website, posting awesome GIFs that made the front page hundreds of times. He had over 3,000 followers who looked forward to his postings. He was a wonderful, kind and generous man who volunteered and did great things for many people. He nursed his mother until her death of cancer in 2013. He was a confirmed bachelor until he met the love of his life in March of 2013 and they were planning to marry in March 2014. His death was sudden and unexpected. He will be sorely missed by those who loved and admired him.